SEE VIDEO BELOW describing the unique hydrophobic moisture blocking and non moisture-water absorption properties of AIT PRIMA-PROTECT conformal coatings.  Unparalleled performance in protecting printed circuit boards from damages in salt mist and/or in industrial environment with corrosive ions dissolved in moisture and acid rain is why AIT PRIMA-PROTECT stands out from the competiton.
Die-Attach Paste and Film Adhesives
One of the most advanced and comprehensive lines of paste and film adhesives:
Die-attach film (DAF) adhesives that can be "tacked" instantly and cured without fixture and pressure. More than 10 years of proven 3-D stacked-chip reliability
Rapid curing die-attach epoxy paste adhesives for online chip bonding assembly
Stress-free flexible die-attach epoxy film and paste adhesives for larger dies
World's only tacky version of DAF adhesive for specialty packaging
Thermally conductive and/or electrically conductive adhesive tapes and pastes
Please CLICK HERE TO VIEW VIDEO describing AI Technology's Die Attach Film (DAF) Adhesive and Dicing Die Attach Film (DDAF) Adhesive technologies and product line. AIT pioneered the self-supporting die-bonding film adhesive that enables high thermal and electrical conductivity coupling with stress absorbing capability embedded in the molecular structures to provide robust manufacturability and reliability of the assembled devices.
Dicing and Grinding Tapes & Greases
The first line of dicing and grinding tapes made in the United States:
High temperature control release dicing tapes
Anti-static high temperature control release dicing tapes
High temperature and anti-static double-sided tape for wafer thinning
Grinding tapes with buffer layer for solder-bumped and gold-bumped wafers
UV release tape for wafer dicing
Ultra Hydrophobic Moisture Blocking Conformal Coatings for Printed Circuit Boards and Electronic Devices Protection, Protective Coatings for Electrical Contacts, Battery Terminals and Printed Circuit Boards:
Thermal Adhesives and Thermal Interface Materials (TIM)
Phase Change Material for Thermal Interface, Thermal Greases, Thermal Gels, Conformable Thermal Gap Pads, Thermal Tape Adhesives, Thermal Film Adhesives and Thermal Paste Adhesives
More than 25 years in pioneering phase change thermal interface materials of thermal adhesives, thermal greases, thermal gels, thermal gap-pads, and thermal interface pads:
Patented compressible phase-change thermal interface materials and gap-pads for large area gap-filling
COOL-GREASE™: Thermal grease with the measured lowest thermal resistance
COOL-GEL™: Gap-filling thermal gel thermal interface for conductive or insulating applications
COOL-GELFILM™: Pressure sensitive thermal interface material in compressible and conformal film form
COOL-GAPFILL™: Thermal gap pad with outstanding conformal and compressibility for thermal gap filling
COOL-BOND™: thermal paste and thermal film adhesives with low thermal resistance
In-situ curable instant bonding thermal adhesive tapes
Proven and measurably lowest thermal interface resistance COOL-SILVER™ Grease and COOL-SILVER™ Pad for overclocking computers
Ideal for thermal dissipation for CPU, video chips and modules, power modules, memory modules, etc.
Thermal interface material (TIM) that provides the lowest thermal resistance is critical for the performance and reliability of the high performance power devices. The lowest thermal resistance interface is generally not directly correlatable to the highest bulk thermal conductive interface materials. Please CLICK HERE FOR A VIDEO from AI Technology, Inc. for a detailed theoretical and practical considerations in using different thermal interface materials in thermal management of high performance electronic devices.
Insulated Metal Substrate and Metal Core Printed Circuit Board Laminate Substrates
Thermal Substrate of insulated metal substrate laminate or Metal Core Printed Circuit Board (MCPCB) laminate substrate has been proven to be more than 2 times more thermally conductive than traditional insulated metal substrates. Stress-free for large and small devices:
Stress-free with high thermal conductivity flexible dielectrics
1-4 oz copper with standard 60 mil aluminum
Copper to copper insulated metal thermal substrate
Multi-layer capability with pre-preg for power modules and LED panels
AIT Brochure Of Insulated Metal Thermal Substrate (IMTS)
EMI/RFI Shielding for Flexible Circuit Boards and ESD Discharge Protection Coatings
Conductive EMI/RFI shielding laminate materials and ESD discharge protection coating and materials:
Conformable pressure sensitive laminate conductive adhesives for flexible printed circuit boards (FPCB) for smart phones and microelectronic modules
Proven conductive coating and sealant for EMI/RFI shielding for more than 25 years
Proven reliable ESD coating and laminates for sensitive components and modules
Lid Sealing For Optical, MEMS and Microelectronics
Patented sealing solutions with epoxy perform passing fine and gross leaks:
Pre-applied lid-seal on glass and ceramics for MEMS, opto-electronic and other devices
Pre-forms for direct application on large optical devices for lowest cost and high yield pre-form custom solutions
The first epoxy lid-seal solution to pass fine and gross leak tests
Pre-applied melt-bondable preforms for wafer scale sealing to pass fine and gross leak requirements
Flip-Chip and Specialty Adhesive Materials
Low CTE, low moisture absorption and high temperature stable rapid curing film and paste flip-chip underfills:
Solder-substitution adhesives
Gold-based adhesives
Silver-palladium adhesives
Z-axis paste and film adhesives
Zebra-like alternating conductive insulating adhesive for interconnections
High Temperature Underfill Compounds for flip-chip packaging, chip-on-board, and package-on-package
Much lower moisture absorption and sensitivity for long term component storage:
Higher Tg and modulus for additional stress-relief than traditional epoxy underfill compounds
Much lower CTE (coefficient of thermal expansion) than traditional epoxy underfill compounds
Much lower (1/2 to 1/5) of ionic impurities for reliability under biased conditions
Substrate & Component Attach Paste and Film Adhesives
Pioneering stress-relief adhesives for mis-match electronic circuit substrates:
Large area substrate attach adhesive with 30 years of successful history
Stress-free flexible conductive film and paste adhesives for low and high temperatures
World's first tacky epoxy film adhesives
Thermally conductive and/or electrically conductive film and paste adhesives
Solderable Flexible Circuit & Interposer Substrate Materials
A lower cost organic copper-clad laminate substitute for polyimide-copper laminates with unlimited production capacity:
Patented single and double-sided copper laminate materials
1, 1/2 and 1/4 oz copper flexible organic copper-clad laminate materials for direct soldering
High temperature stable for lead-free soldering
Ideal polyimide-copper laminates substitutions
COUPLER-MIP organic copper-clad laminate has matching CTE to copper for replacing polyimide and PTFE substrate material for chip scale and wafer scale packaging
MIL-STD 883C Method 5011.4 Compliant Adhesives
Proven and qualified adhesives for die, component, and substrate attach applications
NASA and ESA Outgassing Compliant Adhesives
A list of products from AIT that has years of proven success in NASA and ESA outgassing compliant adhesives for space applications.
UV Resistant Coating, High Temperature Tape Adhesives and High Temperature Labels
UV resistant transparent coatings: ambient drying fluorinated coatings
UV blocking protective coatings: ambient drying fluorinated coatings
UV resistant, UV blocking coatings with outstanding moisture resistance
High temperature labels for use at temperatures at 150-200°C
High temperature transfer tape adhesive for use at 150-200°C
High temperature tape adhesive for use at 150-200°C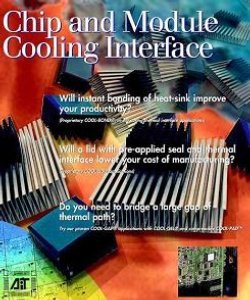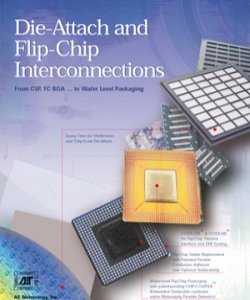 ABOUT US
AI Technology has more than 29 years experience in designing and manufacturing various forms of high performance "Stress-free" flexible adhesive films and pastes and materials for microelectronic packaging and thermal interface materials for thermal management applications. Our newest research has yielded higher performance and lower cost, solderable flexible circuit substrate materials to replace polyimide-based organic copper-clad laminates in high frequency, RFID, and with low dielectric constant loss and low moisture absorption in replacing PTFE substrate material in microwave circuits. Our technologies and products include solvent-free dies and substrate attach pastes and films, compressible gap-filling phase change thermal interface materials of thermal pads, thermal gels, thermal greases, polymer based Solder-Sub® flexible conductive adhesives for solder-replacement in fine-pitch interconnections, near-hermetic lid sealant for ceramic and metal covers and optical glass lids for opto-electronic sensors and devices, EMI Shielding gasket/adhesive/caulk materials, double-sided UV-release wafer grinding tapes and high temperature-static free dicing tapes.
OUR HISTORY
Since pioneering the use of flexible epoxy technology for microelectronic packaging in 1985, AI Technology has been one of the leading forces in development and patented applications of advanced materials and adhesive solutions for electronic interconnection and packaging. AI Technology now has one of the highest reliability adhesives and underfills for die bonding for the largest dies, stack-chip packaging with dicing die-attach film (DDAF), flip-chip bonding and underfilling and high temperature die bonding for single and multiple-chip modules for applications beyond 230°C. The company continues to provide the adhesive solution for component and substrate bonding for both military and commercial applications. Its thermal interface material solutions of patented phase-change thermal pads, thermal greases and gels and thermal adhesives set many bench marks of performance and reliability for power semiconductors, modules, computers and communication electronics.
The company has an ISO9001:2008 certified manufacturing and R&D facility in the U.S. and a Far East Service Center in Hong Kong. The US headquarters has more than 50,000 square feet of manufacturing facilities for its die and substrate attached adhesive films and pastes, thermal interface materials (TIM) including insulated metal substrates, gap-filling compressible phase-change pads, thermal gels, thermal greases and adhesive films and pastes.  AI Technology provides electromagnetic and radio frequency interference (EMI/RFI) mitigation material solutions including conductive gaskets, form-in-place (FIP) conductive gaskets, self-attached shielding covers/cans/lids, conductive caulks and adhesives, ultra-high temperature (300°C) continuous use films and paste die and component adhesives and advanced organic copper-clad laminates from 1/4 oz to 1 oz copper within its 16-acre campus in Princeton Junction, NJ.
AIT application engineering, sales, chemists, and material scientists are ready to serve your special needs and applications. Please inform us of your requirements using the Contact tab or click on the button below:
AIT technical sales and service department can also be reached at: 1-609-799-9388 or 1-800-735-5040 (EST) and Fax: 609-799-9308
Please see AIT's Google+ page to view our informative product videos.