Wafer Dicing Tapes
Key Features of AIT Wafer Dicing Tapes:
Release-on-demand by exposure to UV irradiation to enable pick up of largest of dies.
Low ionic impurities and doesn't impart contamination of metal ions from adhesive.
Outstanding expandability to prevent contact damage to dies and wafer.
Controlled bond strength and hydrophobic to enable dicing under water-jet without peeling or slippage.
Complies with and supports the working environment of class 100 (ANSI 209b) requirements.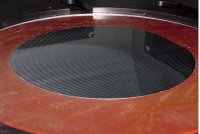 Functions and Benefits of AIT Dicing Tapes:
Two grades of peel strength (250 and 500 gm/in) for both UV releasing type and non-UV releasing types to accommodate different dicing speeds and die sizes.
Industry's unique high temperature dicing tape with both flexible substrate and adhesive to withstand temperature up to 250°C for post and pre-dicing operations.
Suitable for dicing panels for packages, ceramics and glass components
Support laser cutting besides traditional blade dicing.
Maintains stable peel strength for 12 months in original packaging to facilitate transportation of diced wafer and panels.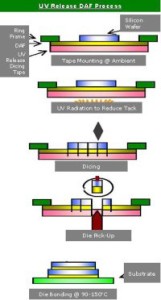 Made-In-USA: UV Releasing, Pressure Sensitive and High Temperature Dicing Tapes to Serve Customers Worldwide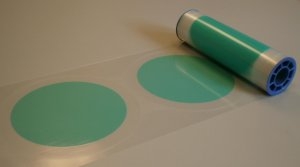 New Die-Attach film availability: AIT is now producing wafer die-attach film in wafer sizes up to 12-inches in combination with dicing tape in reel-to-reel format.  AIT's made-in-the-USA DDAF and packaging presentation is similiar to Lintec, Hitachi and other Japanese suppliers.
Proven and Unparalleled Advantages:
Unique high temperature capability
Outstanding expandability and stability
Proven anti-static capability
Proven anti-chipping
Stable and consistent peel strength
Proven for the smallest and largest dies
Roll-to-roll presentation for highest volume dicing applications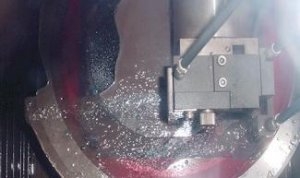 UV-Releasing Wafer, Panel and Substrate Dicing Tape with Anti-Static Capability
AIT Product
Characteristics
Electrical
Applicable Temperatures (oC)
Peel Strength(gm/inch)
UVR500

PO-PVC-AIT proprietary backing
Silicone-free
Stable peel strength
UV Releasing
25 micron adhesive on 75 miron liner

Anti-static

Ambient to 150°C
Large and small dies

500
UVR250

PO-PVC-AIT proprietary backing
Silicone-free
Stable peel strength
UV Releasing
25 micron adhesive on 75 miron liner

Anti-static

Ambient to 150°C
Large and small dies

250
UVR500-DS

PO-PVC-AIT proprietary backing
Silicone-free
Stable peel strength
UV Releasing
25 micron adhesive on 75 miron liner

Anti-static

Ambient to 150°C
Large and small dies

500
UVR250-DS

PO-PVC-AIT proprietary backing
Silicone-free
Stable peel strength
UV Releasing
25 micron adhesive on 75 miron liner

Anti-static

Ambient to 150°C
Large and small dies

250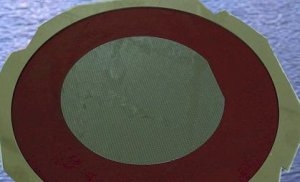 High Temperature Wafer, Panel and Substrate Dicing Tape with Anti-Static Substrate
AIT Product
Characteristics
Electrical
Applicable Temperatures (oC)
Peel Strength(gm/inch)
HTCR500

AIT proprietary backing
Silicone-free
Stable peel strength
25 micron adhesive on 75 miron liner

Anti-static

Ambient to 150°C
Up to 300°C intermittent

500
HTCR250

AIT proprietary backing
Silicone-free
Stable peel strength
25 micron adhesive on 75 miron liner

Anti-static

Ambient to 150°C
Up to 300°C intermittent

250
HTCR500-DS

AIT proprietary backing
Silicone-free
Stable peel strength
25 micron adhesive on 75 miron liner

Anti-static

Ambient to 150°C
Up to 300°C intermittent
Tacky on both sides

500
HTCR250-DS

AIT proprietary backing
Silicone-free
Stable peel strength
25 micron adhesive on 75 miron liner

Anti-static

Ambient to 150°C
Up to 300°C intermittent
Tacky on both sides

250
For a recommendation, information or assistance, please contact AIT sales and engineering:

AIT technical sales and service department can also be reached at: 1-609-799-9388 or 1-800-735-5040 (EST) and Fax: 609-799-9308